NEW REPORT! Stone Door Media Lab partners with Country Aircheck on Radio Music Decision Survey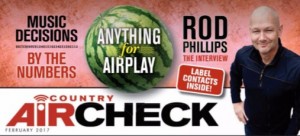 A new study (March 2017) conducted by the Stone Door Media Lab and leading Country radio trade publication Country Aircheck shows for the first time which of 38 factors most influence radio station program directors in their decisions to add new singles or increase airplay on current music.
READ THE FULL REPORT. You can click HERE to see the 40-slide PowerPoint deck with all the details. And click HERE for the accompanying six-page presentation text that offers explanations and more details for each slide.